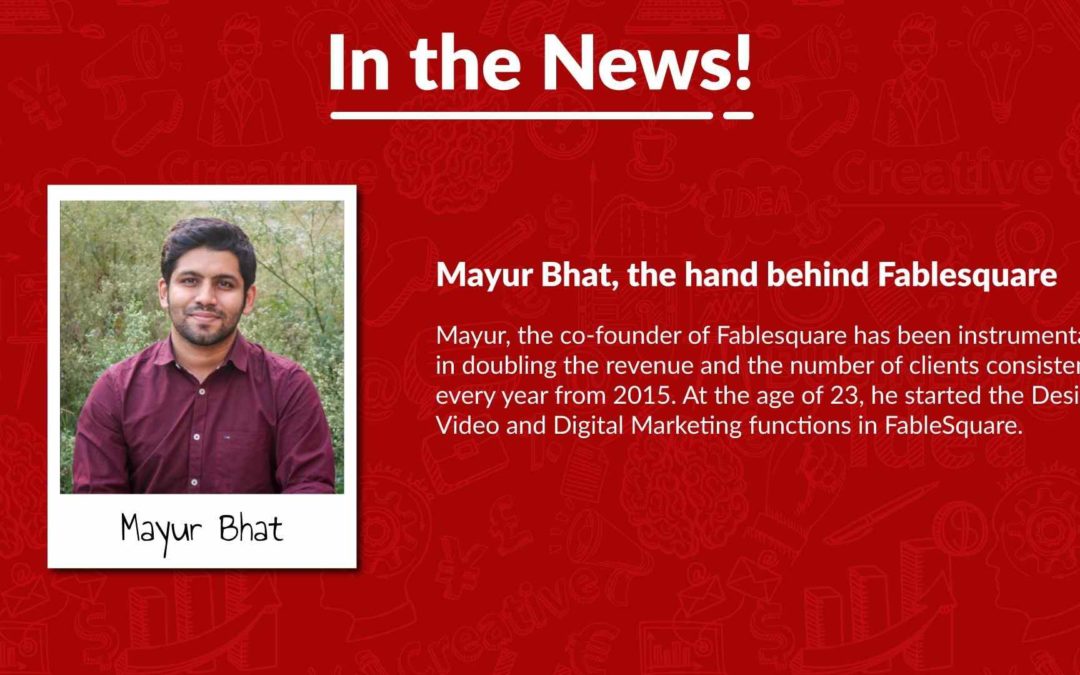 About Mayur
Mayur, the co-founder of Fablesquare has been instrumental in doubling the revenue and the number of clients consistently every year from 2015. At the age of 23, he started the Design, Video and Digital Marketing functions in FableSquare. He currently handles the creative direction and digital marketing. After securing his engineering degree, Mayur joined a leading Fortune 500 company, in the tech sales division for the North Americas. He was awarded for being the top salesman among 3000 agents from 5 countries. With his sharpened sales acumen, and always being inclined to the creative pursuits, he teamed up with his mother Mangal to start his own firm- Fablesquare, a full-service Marketing agency. The mother-son duo has always been passionate about story-telling and decided to make that the central element of the company's ethos. He is a polymath with many pursuits and interests. His hunger for learning, and thirst for perfection, keeps him on the cutting edge of design and digital marketing. This allows him to be the front facing person and interact directly with every client. Mayur says, "I had initially set my sights on climbing up the corporate ladder, but sometimes things don't go as you think they will. I always wanted to start something of my own, but I never thought I would do it right after my first job.".
Mayur is a football player, a guitarist and vocalist, a public speaker, a photographer and videographer, and an active e-sports player. Mayur's love for his company can only be beaten by his love for his pet Labrador. He is passionate about animal rescue.
He is fondly called 'The Chief' by his team.
Idea Behind Fablesquare
Mayur became well versed with the functions of sales in his previous job. This helped him understand what enables the sale and helps nudge the customer to finally make the buy. At the same time, his mother Mangal was consulting as a marketing strategist to SME's across Bangalore. On one of their walks, they deliberated on the improvement of results for Mangal's client companies and they surmised that the best results could be achieved by adding an execution wing to Fablesquare. Mayur and Mangal started Fablesquare as an influencer marketing agency, by leveraging the organic influencers of the organization to increase brand awareness. They introduced Content and Digital Marketing as part of their capabilities with the help of Kedar. They teamed up with Mayur's classmate Izel, to introduce the design function to FableSquare's Portfolio. In October of 2016, after a year of operation, a decision was made to rebrand the company to its current avatar as a full-service marketing agency, to provide the entire spread of marketing activities, from strategy to execution, all under one roof.
The journey till now
Over the past 3 years, Fablesquare has worked with over 70 clients on more than 175 projects. Its core philosophy is based on story-telling using out of the box thinking and visual communication elements. The emphasis is on helping clients craft their story clearly and vividly and amplify its reach to their target audience. Using organically gained influencers, we operate with a unique approach towards Influencer marketing. We now Design, Content, Public Relations, Digital Marketing, Influencer Marketing and a few more services. Fablesquare is currently a 13 member team with a strong design and digital marketing team.
Clients
Every client has bespoke needs, we give them the bespoke solution they deserve. FableSquare has worked with 70+ clients across 12 domains and is currently engaged with 10 active clients. Understanding the clients' story, their problem and taking a creative approach towards solving them has helped Fablesquare garner trust. Tech Mahindra, Informatics, Inflow, Catalystor, Exxon Mobil, Tally, Barracuda are some of its marquee clients.
Funding
Fablesquare is bootstrapped and currently not raised external investments.
Future Plan
With a bold and passionate team, Fablesquare aims to become the go-to full-service marketing agency, to organizations across geographies, offering the entire gamut of services under the marketing umbrella.
Source: NewsPopX